How winter impacts your bill
During the mild temperature of spring and fall, many of us don't use heating or air conditioning very often, so our energy bills may be lower. But with the arrival of sustained colder temperatures in winter, heating systems run more frequently and for longer periods of time. So you can generally expect to see your energy bills start increasing in October and peaking in January or February. That's important to know given that the cost of heating your home can make up 40% to 60% of your monthly winter Avista bill. There are many factors that can contribute to a winter bill higher than you might expect. Looking at the following items on your bill can provide more information on how winter impacts your bill.

Your Monthly Energy Usage and Daily Average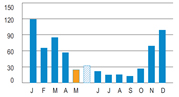 To see how seasonal changes typically increase or decrease your energy costs, look on the back of your Avista bill for the electric and/or natural gas charts labeled "Your Monthly Energy Usage." These charts let you compare your current month's energy use (orange bar) to the same month the previous year (light blue bar). It also shows your cyclical energy usage (dark blue bars) for the prior 11 months.
What factors besides weather can impact your bill?

Your monthly bill is also affected by the number of days in your billing cycle, which can vary month-to-month from 27 to 35 days. The variation is caused by different factors, including the actual number of days in a month, when weekends and holidays fall, and whether the meter reader was able to access your meter (e.g., buried in snow).
To compare the number of days in your current billing cycle with the same period last year, look for the icons underneath the billing chart entitled "Your Monthly Energy Usage." If your current month's bill has more days in the billing cycle than the same month last year, your bill can be higher.
Your energy usage is another important factor in determining the amount of your monthly energy bill. Only a few days of extremely cold temperatures can cause your bill to be higher because your heating system can run more frequently and for longer periods of time.
To see your energy usage for the month, look on the back of your bill for the charts labeled "Electric Detail" and/or "Natural Gas Detail." At the top of each chart is a box labeled "Energy Usage" that lists the number of kilowatt hours or therms you used. This number is used to calculate your energy bill and is added to the "Basic Charge" fee charged to all customers.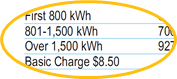 Avista's residential electricity rates increase as you use more. In Washington, the lowest rate is for the first 800 kWhs of usage in a billing cycle, and the highest rate for all usage over 1,500 kWhs in a billing cycle. In Idaho Avista charges the lowest rate for the first 600 kWhs of usage in a billing cycle, and all other usage in a billing cycle at a higher rate. So, making smart energy choices during the coldest winter weather months can help to limit the amount of your usage that will be priced at the higher rates. Please check the "Electric Detail" section on the back of your bill to see how much of your energy usage is in the various electricity usage levels.

Your monthly bill can also be impacted by a change in customer rates, which is regulated and must be approved by the public utility commission in your state. If the rate decreases or increases during a billing cycle, it will be shown on the back of your bill in the "Electric Detail" or "Natural Gas Detail" section. Your usage will be prorated by the number of days in the billing cycle, separating those at the previous rate from those at the new rate. Managing energy use can help offset the impact of a rate increase. View energy-efficiency rebates and energy-saving tips to help maximize your energy savings.
What are other common causes of higher winter bills?
Your monthly bill can also be impacted by winter holidays. Having additional family and friends visiting can mean more cooking, showers, laundry and dishes, all of which use more energy. School vacations can also mean your home is kept warmer and lighted throughout more of the day, and the kids are using and charging more electronics. If you're traveling over the holidays, turn down your thermostat and water heater and shut off lights before leaving, or you'll waste energy while you're not there.
Your monthly bill might be higher because of things you only do in cold weather—like keeping your hot tub warmer or heating up a workshop. Did you add space when remodeling your home or bought a new larger refrigerator or power hungry electronics like a big screen TV? If your water heater or home heating equipment is not operating properly, that can also contribute to unexpected higher energy use.
Energy assistance
Sometimes people need a little extra help. That's why we offer programs to our customers through partnerships with local community action agencies when a helping hand is needed. You can also learn about Avista's Energy Outreach program that may be happening in your community.
Online tools to help you understand your usage
Sign in to myavista.com (mobile friendly) and access tools to help you understand your current bill, as well as past use. You can compare this year's use to last years, including temperature information, or look at details of past use. Take a tour today and see:
Energy Insights: gives you a visual comparison of your usage with average temperatures, as well as other tools to compare your bills.
Usage History: details about your usage, including number of billing days and average daily cost.
Bill and Usage Insights: tips on ways to save, as well as details about factors affecting your bill.
Set your thermostat at 68 degrees when you are home during the day and reduce it a few degrees at night when sleeping or when you are away. Setting your thermostat just 3 degrees lower can reduce your bill by about 10%.
Only use space heaters to heat a single occupied room and make sure to turn down the temperature setting on your furnace when using a space heater. If you're not using a space heater for "zone heating," it can actually increase your electrical usage.
Restrict the use of your wood fireplace in extremely cold weather. Fireplaces can rob your home of heat provided by your heating system, which reduces your comfort and increases your energy costs.
Keep fireplace dampers closed when you're not using the fireplace. A chimney with the damper open can draw off as much as 25% of the heated air in your house. Safely block off unused fireplaces when possible.
Keep cold outside and your heat inside by caulking and weather stripping around windows and doors. If you see cracks or light or feel a draft, make repairs where needed.
Open curtains on south-facing windows to let in natural sunlight to warm your home. Keep window coverings closed in rooms that receive no direct sunlight to insulate from cold window drafts. At night, close all window coverings to retain heat.
Make your water heater more efficient by removing sediment and mineral deposits that build up inside. Just draw a pail or two of water from the drain at the bottom of your water heater once every three months.
Set your hot water tank temperature to 120°F. Extremely hot water can lead to higher energy costs and even scalding accidents. Generally, residential water heaters should not exceed 140°F or be below 120°F.
Check the condition of your hot tub cover for escaping steam. Insulation blankets help keep the tub toasty for your use.
Make sure insulation in your crawl space has not dropped from the floor above, that duct work in unconditioned parts of your home is sealed and insulated, and that water pipes are insulated and freeze protected.
If you have additional questions, we're glad to talk with you about your specific situation.